- CELEBRATING 84 YEARS -
   A legacy built on tradition
                                                                                               By John Chambers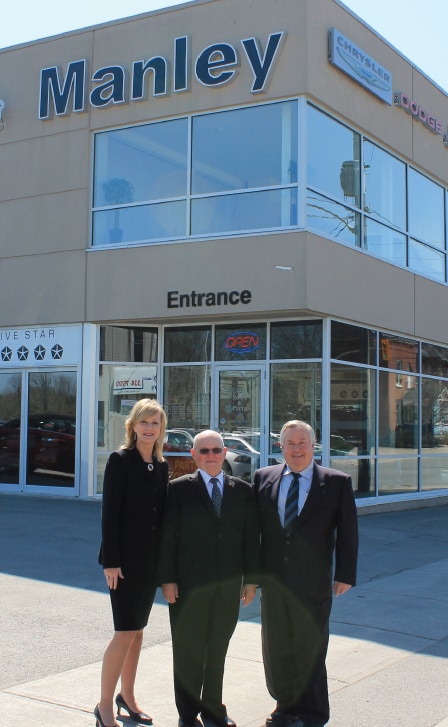 It's a warm spring afternoon when I walk through the doors of Manley Motors; the intercom is abuzz with activity, which quickly becomes part of the background ambiance inside the building. Sales staff are happily working away, some on phones, others talking and laughing together, while parts staff are taking calls and inquiries from customers. Downstairs, service technicians are looking under hoods, changing tires and assisting customers.
On the wall in the showroom two pictures hang side by side. One is a portrait of Hilton Manley, the other a portrait of Hilton's son Earl, who has just walked in the door.
Content and confident with a big smile and a firm handshake, Earl introduces himself.
At 83-years-old, Earl is the second generation of Manley's to operate the William Street North dealership. Today his daughter Jayne and son Doug operate the business, along with about 20 employees.
One thing becomes abundantly clear early on talking to Earl, Doug and Jayne Manley Motors is built on integrity, honesty and pride, a business ethos that is at the heart of everything they do; a throwback to a time when a person's word and handshake meant everything, and to the Manley's, still do.

THE BEGINNING
Earl's father Hilton came to Lindsay in 1931, where he worked for Martin & Taylors - a Chrysler dealership in the very same location Manley Motors exists today.
"On May 15, 1933 he left Martin & Taylors with a mechanic and started what was known as Manley's Garage at 10 Wellington Street, right across the river," Earl explained. "In 1937 he changed the name to Manley Motors."
In 1942, a young man by the name of Raymond Whitely came to live with the Manley's. A war refugee, Raymond stayed with the Manley's while his brother Tom and sister Sheila lived with other families in the Lindsay area.
Manley Motors would remain across the river at 10 Wellington until 1945 when Hilton moved the dealership to its current property at 76 William Street North.
When Hilton purchased the property, two other businesses already occupied the building at 76 William St. N - George Langdon's Butcher Shop was located on the north side of the building, and Ernie Wright's Lindsay Flour and Feed.
In 1945 Manley's undertook a major renovation inside and out in preparation for new car sales. Originally tendered at $18,000 the renovation would ultimately cost about $30,000.
 
CARS COME AND GO
With the renovations complete, Manley Motors was open for business, solely as a Nash dealer at the time, carrying Texaco gasoline and petroleum products. Shortly after, Hilton would add a body and paint shop to the business.
Reo trucks were added to the line-up shortly after opening, and in 1949 and 1950 the Hillman Minx cars joined the Nash products for sale.
Once the Second World War ended in 1945 business became brisk at the Manley dealership.
"After the war anything on four wheels was rolling right out of the building," Earl, who joined his father's business that same year, recalled.
Nash would ultimately force Hilton Manley to stop selling Packard vehicles, but as the Golden Era was beginning, the best was yet to come for Manley Motors.
In 1952, Manley Motors became a Chrysler-Plymouth-Fargo Truck dealer. The service entrance at the time was located off of Wellington Street. In 1963, the Wellington Street counter weight lift bridge was replaced with the present fixed bridge and the service entrance was no longer accessible from Wellington Street.
With more new vehicles to offer and space at a premium, the Manley's would purchase four adjacent properties the last Minaker's Plumbing and Heating in July 2003 though it would take more than four decades to acquire all four.
After demolishing the four properties, Manley Motors added the expanded car lot that exists today.
 
DEATH OF A SALESMAN
On January 10, 1961 nearly 28 years after he opened Manley's Garage Hilton Manley passed away. He was in his 60th year.
With kind eyes and a big smile traits passed on to son Earl Hilton proved he was a fearless visionary leaving Martin & Taylor's at the age of 32 to open his own business.
In 1945 at the time Hilton pushed ahead with renovations at 76 William St. N, the average car cost $1,250, gasoline cost 21 cents a gallon, a person could buy bread for 9 cents a loaf or milk at 62 cents a gallon, the average annual salary was $2,900 and Hilton Manley spent $30,000 for a future he believed in, and for one of Lindsay's lasting legacies.
"My dad always said if you couldn't get something repaired, take it to Manley's," Earl recalled.
 
SERVICE WITH A SMILE
"Years ago, we used to stay open and pump gas every fourth or fifth Sunday so that you could always buy gas on a Sunday in Lindsay," Doug said, remembering when Texaco gas pumps used to be in front of Manley Motors. "We would check under the hood, and check the tires too," Earl added.
When it comes to customers and how they should be treated, Jayne is quick to talk about her father's business mindset.
"Dad would do a deal on a handshake," she said. "We're pretty old fashioned that way, and still are."
Early on you couldn't always wait for the customers to come to you. Sometimes you just had to go out and get them, and twice a week that is exactly what Earl would do.
"I had two runs to the north," Earl explained, noting one day a week he would head up to Wilberforce, while the other day he would travel to Gooderham and West Guilford.
"One winter in particular, cold and bitter," Earl recalled with a grimace, "I was going to Wilberforce and I had four guys lined up to see and I said I will tell you what the vehicles are like. And I said to all four, now if I drive you to Lindsay and they are what I said they are, will you buy them? And they said yes, so I called my dad and said get those vehicles ready, and I drove them to the dealership, and all four drove off the lot that day.
"Your word had to be right," Earl said. "They were exactly like I said they were."
That honesty and integrity is what has made Manley Mo¬tors a success for 85 years treating customers well, and being honest.


Manley Motors Limited in Lindsay, ON treats the needs of each individual customer with paramount concern. We know that you have high expectations, and as a car dealer we enjoy the challenge of meeting and exceeding those standards each and every time. Allow us to demonstrate our commitment to excellence!
Our experienced sales staff is eager to share its knowledge and enthusiasm with you. We encourage you to browse our online inventory, schedule a test drive and investigate financing options. You can also request more information about a vehicle using our online form or by calling 1 (866) 906-0188.
If you don't see a particular vehicle, click on CarFinder and complete the form. We will gladly inform you when a matching car arrives. If you'd like a see a vehicle in person, click on Dealership: Directions for step-by-step driving instructions to our site, or give us a call. We look forward to serving you!